What is Responsive Web Design?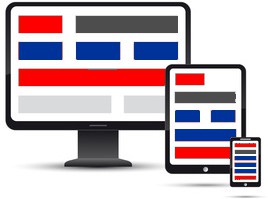 This term indicates a programming technique hides which ensures that a website adapts to the respective terminal. In this case, the site's layout is flexible enough that on a computer desktop, a tablet or a smartphone offers the display of the content a consistent user experience.
In responsive web design function, design and content follow the current screen resolution of the terminal used (desktop, tablet or smartphone). This concerns in particular the arrangement and display of individual elements, such as navigation, sidebars and text.
In the past, the layout design of a website focused solely on a desktop PC. However, this has changed dramatically. The rapid increase in the use of tablets and smartphones now require a completely different layout design and programming. Responsive web design is now a standard that should satisfy any website.

How flexible your website is programmed?
We will gladly help you convert your layout.
Take contact on, we bring your website on the current state of the art.