The content management system Joomla.
Joomla serves small, medium to large web projects. The system is very extensive and can be extended with a variety of add-on modules. That's the beauty of this system! Just about anything is possible. But that should be at this point also called. The system has requirements to the administrator. A basic knowledge regarding the structure of a website is not only useful, but also partly a prerequisite to work quickly and effectively with Joomla can. The extensive possibilities, a very flexible arrangement of the individual contents of a website, are hallmarks of this system. The operation is easy for a tech savvy user and requires only a relatively short familiarization.
>> Joomla Promotional video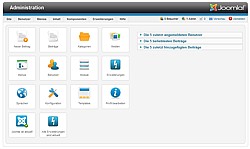 Bild vergrößern
What is a Content Management System?
A content management system (CMS also called short - Translated: Content Management System) is a software that helps you to create websites to manage and handle all relevant for Web publishing formats. An author can use such a system without programming or HTML knowledge. The information to be displayed content is referred to in this context as content (content).
---
Is Joomla right for my project?
This is total depends on how and what you want to publish within your web project and which functions are total desired. Joomla is very flexible in terms of many different application possibilities.
To answer this question specifically, we need details of your project and its features.
Please contact us. Only then can we resolve this question individually.

Regardless of whether you are upgrading an existing Web site, or want to implement a completely new website with a CMS. We realize your wishes. Please send us your request on this page.